Today, dear readers, I would like to tell you about our trip to an abandoned rural school in the Tula region.
An inconspicuous two-story building in the shade of trees, located on the edge of God-forgotten village.
Due to the remoteness from civilization, the atmosphere of the school past and the interiors have been preserved in the best possible way. Leaving history, an ode to the modern education system.
Mass closure of schools began in 2006, when educational institutions were transferred to per capita funding. The new policy of the authorities, low occupancy, small salaries of teachers, all this led to the closure of almost 25,000 schools in Russia in 10 years … Fearful statistics for the national education system …
1. Let's start the inspection from the second floor.
The main corridor is decorated with many posters on the theme of the Great Patriotic War, and at the end of the corridor there is even a memorial to the memory of fallen fellow villagers who studied at this educational institution.
Dried flowers in the director's office.
We were lucky, the building is preserved in good condition, especially the fine arts classes, mathematics and Russian language. Before us is an art classroom.
Nearby, there was also a small piano class.
At the end of the corridor there is a room that resembles a mini-hall for holding meetings or a mini-museum. Many interesting thoughts on posters. "… Countrymen, keep the memory of ancestors …" Alas, not here, and not now. And this makes my soul sad.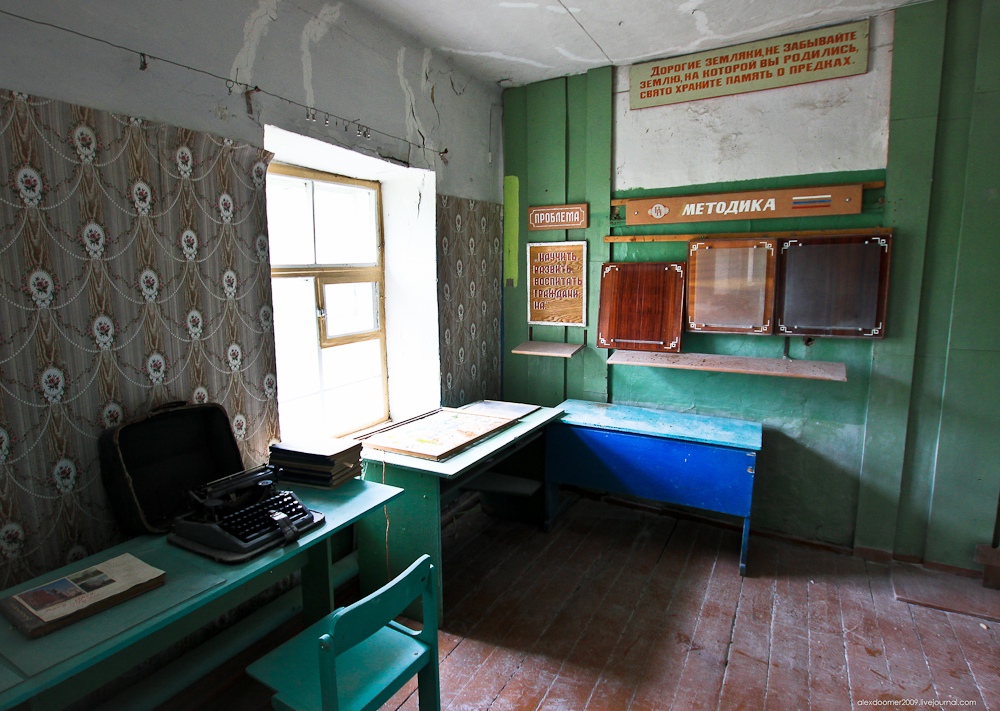 Children's drawings on the theme of war and Soviet symbolism.
Let us look into the office of mathematics, the desks are gone, but there are still portraits of great scientists and various devices. Nowadays it is difficult to imagine, but in this school visual materials on lessons were shown through slides and slide projector.
Let's go to the first floor.
Here is located the classrooms of the Russian language and library.
Let's go to the geometry classroom.
We go out into the corridor and take another shot at the Memorial of Memory. For years, people have long cared for the school, the memory of their fallen countrymen, but what now? Everything is abandoned …
Source: alexdoomer2009